Today is the first day I'm really trying to get back to work since my fabulous writer's residency with
The Studios of Key West
. These wonderful people gave me nine days in an apartment in the heart of Key West's Old Town historic district. And what did I have to do in return? Nothing but write.
Now, remember that I have spent the past quarter-century rearing three wonderful and adorable children, writing when they were in school or asleep
or locked in a closet with a bowl of water
. How often have I had nine days with no responsibilities other than to keep myself fed and avoid burning down the house and make up stories?
I'll tell you the answer to that question. Never.
And I'll tell you something else. It was great!
I am woefully behind on the seventh Faye Longchamp mystery,
Plunder
, but I have never missed a deadline in my life and I don't expect to miss one now. So even though I was sitting in the middle of a tropical paradise, I set myself a daily goal of ten pages a day. As long as I hit that mark, I could go out and play. Since life experience is part of the work of a writer, even that play time wasn't wasted. (And really...is play time every wasted?) The next book after
Plunder
will be set in Key West, which is what prompted me to write a proposal for this residency in the first place.
It was important that I spend some of this time getting to know the island, so I walked all over the historic section, just to look at the pretty houses in their sherbet colors and white gingerbread trim. I watched sunset at Mallory Square twice. I had dinner at a harborfront restaurant and at Margaritaville and several other places. I grocery shopped and cooked my own tropical fare--shrimp salad, guacamole from local avocados, lots and lots of sliced mango. I got lunch and cafe con leche at the neighborhood Cuban restaurant and consumed it on the deck outside my bedroom, located beneath one of the biggest mango trees on Key West.
I'll post more photos and tell more tales later in the week, but here are a few to tide you over until then. And I'll probably say this a few more times, but thank you to The Studios of Key West!
Mary Anna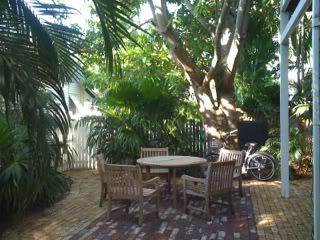 My apartment's private patio and, behind it, the trunk of one of the largest mango trees in Key West.
This is why they call the apartment "The Mango Treehouse"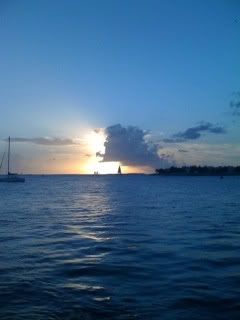 Sunset at Mallory Square--Key West's daily end-of-the-day party